16 weeks checkup! Haha ok semangat. Aku tweet aritu? 2 berita baik? 1 berita tak berapa baik? Kan? Yang tak berapa baik tu biarlah disimpan di dalam hati je lah. Takde org boleh tolong kecuali diri sendiri.
Anyways, berita baik pertama:
The hospital room is confirmed. Sekarang aku dah bole bersalin di situ bila masa nya tiba. Dulu takde bilik, tak boleh bersalin. Lega hati ini. Segala benda yang berselirat, dah terungkai sikit la seliratannya. Masih berselirat though. Our first plan when we went in that day was to inform the gynae and hospital admin that we were changing hospital and we need a refer letter from them for the new gynae and room booking at the new place. But this one nurse yang dr awal sampai haritu, setiap kali datang memang akan tanya pasal tempat bersalin, dia came to us and said, "dah boleh confirm kat hospital ni if nak bersalin di sini". As soon as Wandy translated what she said aku pon terus "NAK! CONFIRM". So yeah....I am happy. And now to kumpul dana untuk bersalin etc. Maklumlah dua2 pon tak kerja. Tak apa, bersusah susah dulu. Adalah rezeki nanti.
Berita baik kedua:
Berat: 44.7kg @ 16 weeks. Gained 1.1kg from last month. But the nurse wrote 44.1kg. Wandy said that the way I wrote 7 was wrong. Aku nak betulkan ah dlm buku tu. Hahaha. Nanti next weight gain aku salah!
Ukuran perut: Normal, 16cm. Betul la ek apa yg omputeh dalam TV tu ukur perut. Ukuran itu sepatutnya sama dengan how many weeks along you are. Dalam kata lain, seminggu naik 1cm.
Berita baik ketiga:
Tiba tiba ada ketiga. Hehehehehehehehehehehehe.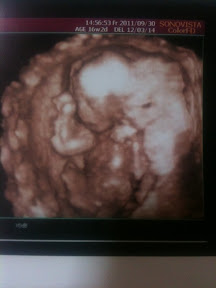 A boy or a girl? :D